Welcome to Noah's!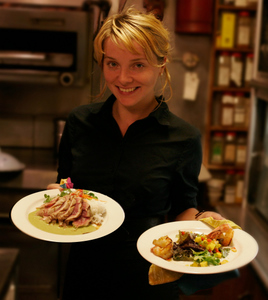 Noah's Restaurant is chef owned and operated. We are a small 75 seat casual fine dining restaurant with bar located in the heart of historic Stonington Borough just seven miles east along the coast from downtown Mystic. For 35 years we have been obsessed with scratch cooking of basic, fresh and where ever possible local, ingredients. We go for a distinctive flavor and quality in our dishes by actually making them on the premises. The results of our "slow scratch" cooking other than a lot of work and high labor costs is that we're still in business. In fact, we are the oldest continually operating, under the same ownership, restaurant in Stonington after the Steak Loft.
Noah's is actually two storefronts, on the left entrance side is our horseshoe shaped mahogany bar and the right side is the dining room. A tin ceiling, and paddle fans, cherry booths, and an ever changing art show on the walls give the dining room a warm inviting tone. Our local clientele keeps us open year round. In fact, I like to think of us as "just around the corner", which we literally are for the residents of the borough. For the wider, larger population from Providence to New Haven to Hartford we offer a worthwhile hour excursion. And for the long distance traveler we're "worth a detour" to copy the Michelin green guide terminology.
We are open all day and into the night serving breakfast, lunch, and dinner menus at the appropriate times. Sunday Brunch from 7:45am to 3pm has become popular with locals and tourists.
News From Noah's

Noahs is Open…

Tue, Wed & Thu: 7:45am - 9pm
Fri & Sat: 7:45am - 9:30pm
Sun: 7:45 - 9pm
Closed Monday except
Memorial Day and Labor Day

For Reservations or Info call
860-535-3925