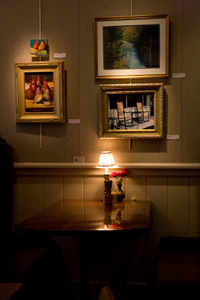 Noah's Restaurant has been serving Stonington Borough and Southeastern Connecticut great food since 1979.
We've been around for a while. As far as I can tell, there has been a restaurant in this building on the corner of Church and Water street since the sixties when it was a Deli called Ernie's. Most of the old timers remember Ernie Stephauldt who served his famous Portuguese soup — the recipe for which he stingily took to the grave. John Connolly ran it for a while after Ernie and then Timothy Bell owned it as the Galley. In 1977 Bruno and Mary Dicecco bought it and called it the Port Side because it was on the left hand side of the one way Water street. Bruno and Mary developed a reputation for quality meals prepared from carefully developed home recipes meticulously executed. Back then they started serving candle lit dinners at the counter, a few tables and a picnic bench in the window. What is now the bar was an antique shop, Opus One, owned by Carolyn Gunn and before that it had been Grandy's jewelry shop.
Dorothy, my former wife, and I, fresh from four and a half years of backpacking, hitch hiking, working and living in parts of Europe, Africa and Asia, were in search of a place to settle and open a restaurant. We rolled into Stonington in our Ford Econoline Turtle top Camper in the Early spring of 1979 and by August were in business with a restaurant and a home all in one building. A number of Stonington residents were integral to our future: Freddie and Louise Fayal who gave us advice and sold us the building and most importantly held the mortgage, since in the late seventies banks were stingy; Fran Wein who appraised the building for us with an admirable sense of integrity; Fran and John Baker who gave us a place to stay while we redid the restaurant; Victor Boatright the head of zoning who encouraged us to apply for the beer and wine license, a sine qua non of our buying the restaurant; John O'Brien who gave much critical advice that has stood the test of a quarter century; Jim Pryor who encouraged us to settle in Stonington in the first place; and Bruno and Mary who generously shared some of their recipes such as the Kentucky Butter Cake, the Brown Derby, and the Broiled Flounder.
We made it through the first winter just fine and by Spring 1980 were joined by Stanley Schwartz, a good friend and our former employer when we lived in Germany. In 1975, Stanley hired us as a grill cook and cocktail waitress at the Rhein Main Officer's club. Six months later we had saved enough to begin our treck across Africa from Algiers to Nairobi. After six months in Africa, Stanley hired me back as Catering Manager. All went well until winter of 1976 when the Bader Meinhof gang – or was it a sewer gas explosion? – blew up the club. Anyway, one of the most popular air force clubs in Europe was gone, and Stanley moved the club to another location, a few blocks away and began design work on a new officers' club. As a side line, Stanley and I took over the Rhein Main Rod and Gun Club's snack bar as an annex of the officer's club and turned it into the Yaeger Stub. The Yaeger Stube business increased tenfold, cementing the partnership between Stanley and me. We were extremely happy when he joined us in the now newly named Noah's Restaurant in the Spring of 1980.
In 1982, Debbie (Ruffin) Papp heard about Noah's and decided it would be a neat place to work. She wrote us a letter asking for a job. A week later Stan had interviewed and hired her. She comes from a long family history in the restaurant business. Her two uncles, William and Edward Perry owned the famous Sea Village Restaurant on Hancox St. back in the 40's and 50's and her grandparents ran the Coffee Cup Restaurant on Water St. in Stonington for over 40 years! She started out helping Stan in the kitchen with prep work and desserts and then became our hostess, night manager and general manager. Debbie likes to say she is now semi-retired. She still makes some of our desserts like the Pavlovas, the Italian Lemon Cream Cake and Biscotti for the bar. She has also taken on the running of Noah's Art. Debbie says she started out her life in the restaurant business at about 3 years old and will end her life in it most likely, as we are now married!
In August, 2016, we will celebrate our 37th year, and we find ourselves with the same philosophy we began with: an absolute passion for finding the best fresh ingredients whether fish, meat or produce and a commitment to scratch cooking. We believe our food is distinctive because we actually make it right here, on the premises, in our little kitchen, from basic ingredients.
Dining in the United States has grown up a lot in the past quarter century (gasp), and we find that our breads, pastas, desserts, seafood, and meat dishes have evolved as well. Stanley, a fourth generation baker, makes many of the desserts,along with Linda,our head chef and Debbie helps out also. Stanley keeps a stock of around ten different flours for his different breads. We have changed our house bread from the fatter Italian loaves to the longer, slimmer French baguette loaves. We still make Swope, occasionally dinner rolls, Pumpernickel Raisin and Irish Soda Bread (St. Patrick's Day). Stan has taught Linda and Yul how to make many of these breads and they do a fine job.
Seventeen years ago we put in the new horseshoe shaped bar.It is a lively, friendly bar which invites conversation due to it's shape. We enjoy a great mix of young and old, couples and singles at our bar. As you would expect we use fresh lime, lemon and orange juices in our drinks. We are have a reputation for our famous Martinis and Cosmopolitans. In the Spring when the mint grows, we make our delicious Mojitos to order. Our guests have enjoyed the combination of light to hearty fare and the opportunity to create a fun and delicious dining experience by mixing and matching smaller portions of interesting fish, meat, appetizer, and tapas items. Since we installed the new bar, we no longer close for the month of February. We are open year round.